What's one of my least favorite things to do?  Cooking!  And I don't like it for several reasons.  Cooking makes a mess and it takes forever.  I want to do something fast and pain free without getting a bunch of things dirty.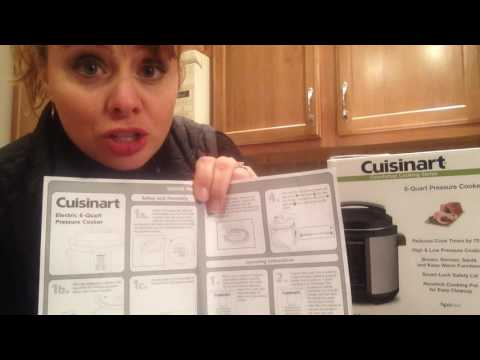 ​
Enter Cuisinart Electric Pressure Cooker!  It is so much less mess and it cooks at amazing speeds.  Have you ever tried to cook a post roast?  It takes forever!  It can cook up to 70% faster than conventional methods.  You can even simmer, sauté, brown and keep food warm all in the same nonstick cooking pot so that you're only getting one thing dirty instead of a bunch of pots and pans.  It also has high and low pressure cooking options.  


Another reason I don't like cooking is because my husband wants healthy, low carb meals.  So how do I please the kids as well as my husband?  It's not easy!  The Cuisinart Electric Pressure Cooker cooks healthier too. Steam trapped in the pot builds up pressure that creates hotter temperatures, and the pot is so tightly sealed that vitamins and minerals can't boil away.  In fact, it's so safe that it won't start the pressure until locked in place.  Also, since you can't unlock it until pressure is released, it makes it perfect for all house holds.

The Cuisinart Electric Pressure Cooker even comes with a recipe booklet!  I picked the pesto chicken with potatoes & carrots.  It was amazingly easy!  It was dinner all in one pot with less mess, less time, and less prep.  My husband loved the healthy aspect and I loved no mess.
Some of the other foods in the recipe booklet are soups, side dishes, entrees, and desserts.  Yes, desserts!  You can make a cheesecake, pudding, or simple raspberry sauce.  Some of my favorite recipes are the pasta e fagioli, sweet potato puree, rice pilaf, beef stew, risotto primavera, and chicken with herb dumplings.  Yum!
The Cuisinart Electric Pressure Cooker is quite easy to use with the simple quick reference guide.  I usually skip directions and just want to look at pictures and this was perfect because it had step by step pictures with brief directions.  Great for a visual learner like me!
So if you want something that will help you cook faster, easier, healthier, and create less of a mess than the Cuisinart Electric Pressure Cooker is for you!


Find the Cuisinart Electric Pressure Cooker's website, Twitter, Instagram, and Facebook pages for more information.

The Cuisinart Electric Pressure Cooker (model no. CPC-600) has an everyday retail price of $99.95.


Lafayette Macaroni Kid was compensated for this review.  All opinions are our own.