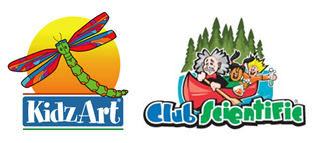 Science * Technology * Engineering * Art * Math
Summertime gives kids the opportunity to dive deeper into their interests with more time for instruction and exploration. Last year our partner publisher's children attended the KidzArt Summer Camps and learned so much about art education. After the first day, it was clear that it was more than just an arts and crafts type camp - they were learning about shading, warm and cool tones, texture, and even complimentary colors. They also enjoyed using different mediums like paint, clay, wire, and pastels. Every day they learned something new!
This year they have a very cool glow in the dark theme - Ready, Set, Glow!, Around The World, Pirates and Princesses and Nature Explorers! Check out details on their website.
They also added "Club Scientific" for your science enthusiasts. Kids conduct hands-on experiments around different themes like Jr. Chemist, Jr. Paleontologist, CSI Forensics, Hollywood Special Effects and Emergency Vet where they will actually dissect a sheep heart... seriously how cool!
When you sign up early you get $10/off each full day camp, they also have a payment plan option to help you budget before the cost of summer hits at no additional cost. They also have before and after-care options to choose from.
Here are more details about each camp including dates, hours, costs, and online registration.
Register Now for Club Scientific and KidzArt Summer Camps in Lafayette for 2019!! Camps for Ages 4-12! Payment plans available at no additional cost! Before care and after care available!
Greater Lafayette - First Christian Church, 329 N 6th Street, Lafayette, IN 47901
| Location | Dates | Camp Themes |
| --- | --- | --- |
| Greater Lafayette | June 3-7 | KidzArt Pirates and Princess |
| | | KidzArt Ready, Set, GLOW! |
| | | Club Scientific Junior Chemist |
| | | Club Scientific CSI Forensics |
| | | |
| Greater Lafayette | July 29-Aug 2 | KidzArt Nature Explorers |
| | | KidzArt Around the World |
| | | Club Scientific Junior Paleontologist |
| | | Club Scientific Emergency Vet |
| | | Club Scientific Hollywood Special Effects |
Register Here for Greater Lafayette Camps
Use discount code MACGF19 for $10 off for full day camps.