Looking for some fun ways to "dress up" your child's lunchbox for Halloween? Here are 13 Halloween-themed treats that are easy ways to make your kids' lunches spooktacular: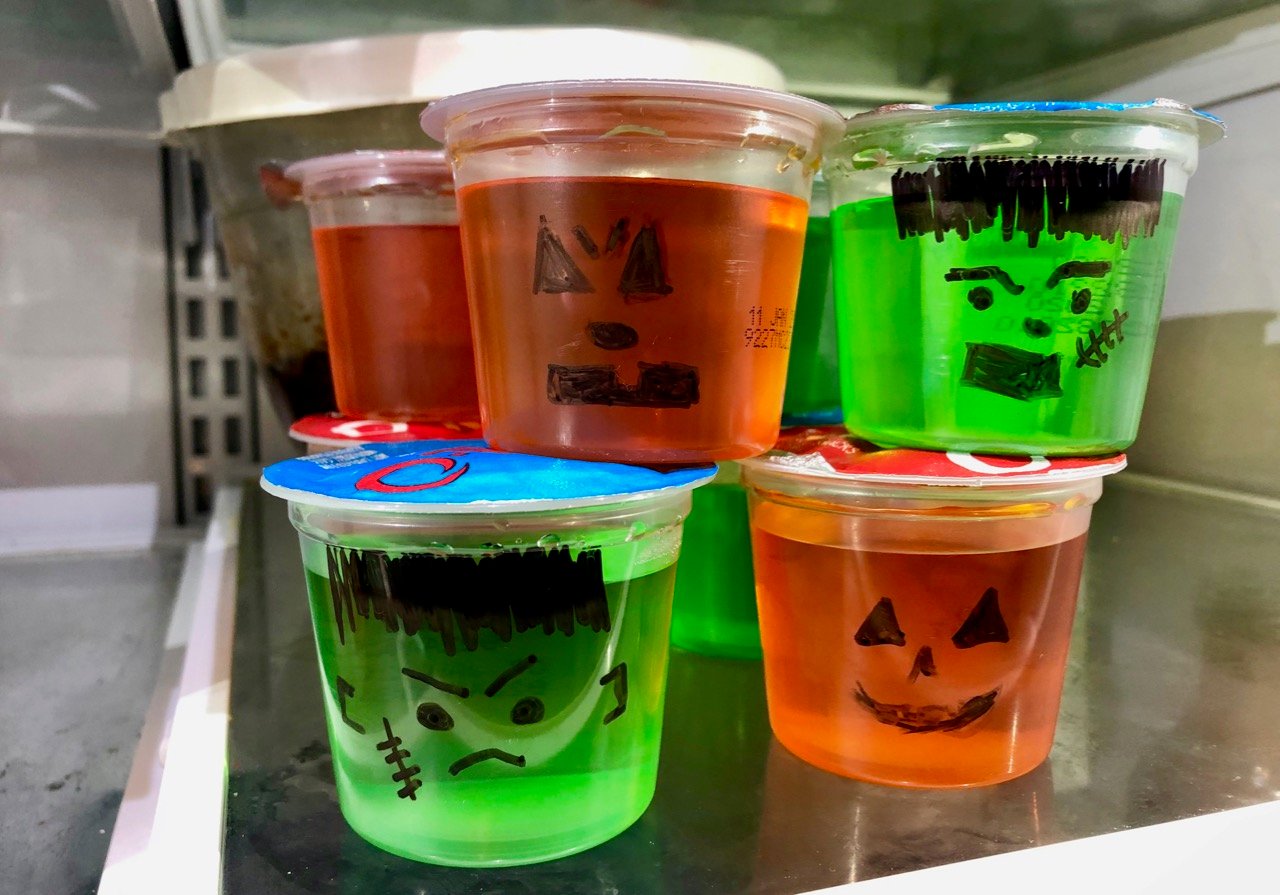 Frankenstein Jell-O
Spruce up green gelatin to look like Frankenstein's monster and change orange into a jack-o'-lantern.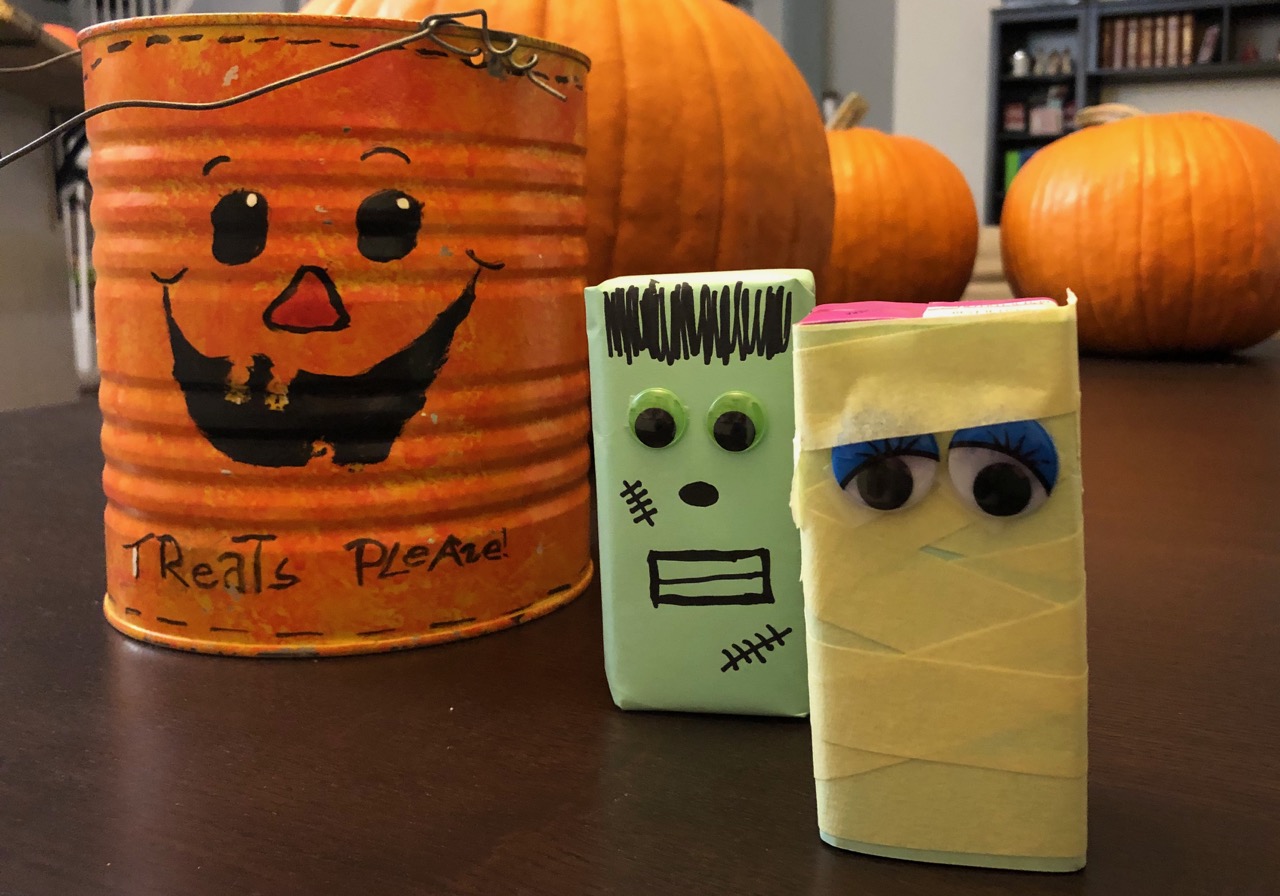 Juice Box Monster
Wrap a juice box with masking tape and add some googly eyes to create a mummy. Or cut plain or colored paper to fit your juice box. Wrap it around and tape the ends, then decorate. (Be sure to remove the straw first and tape it back onto the box after wrapping.)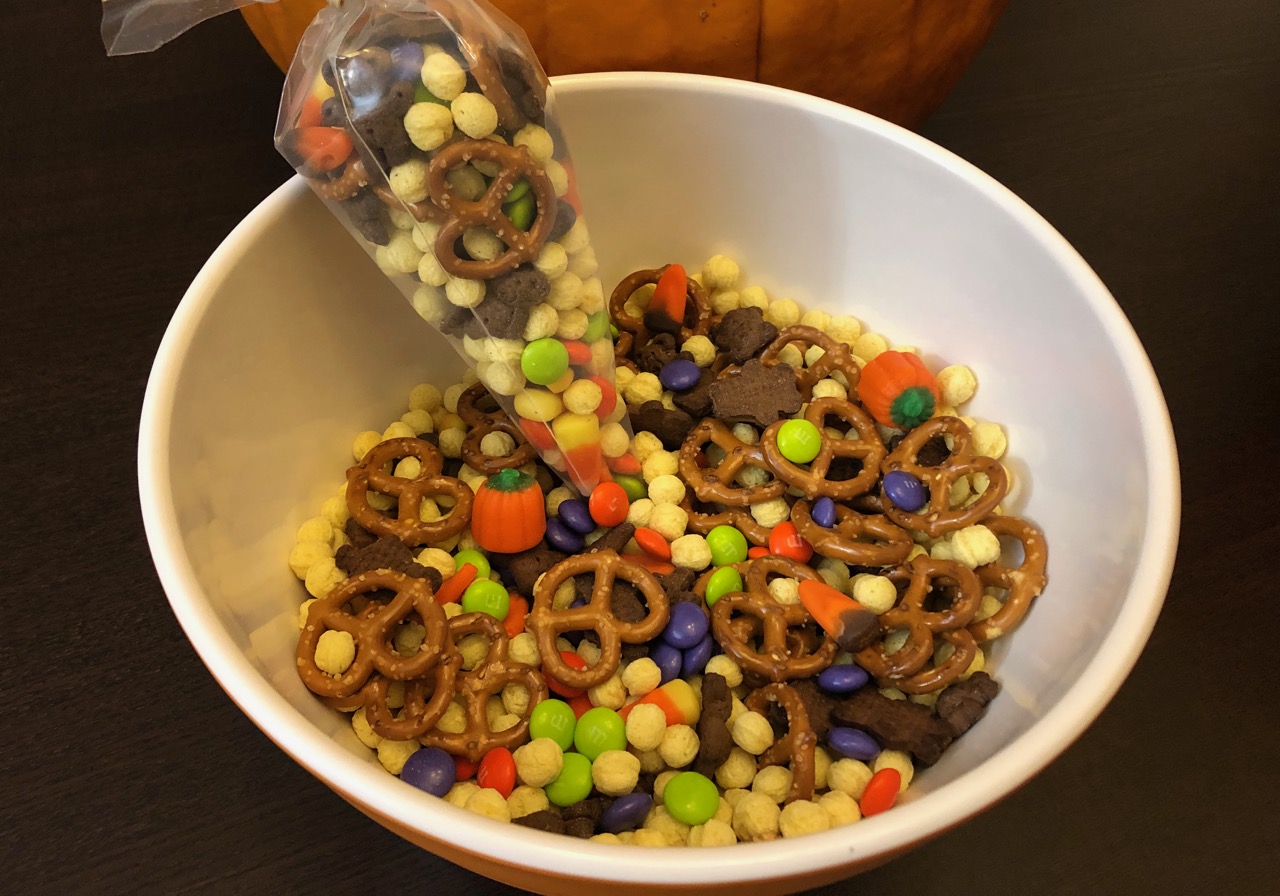 Halloween Snack Mix
Make your own snack mix with seasonal colors and flavors — cereal, pretzels, graham cracker snacks, golden raisins, and seasonal candies are all great options. I love using icing decorator bags for treats like this.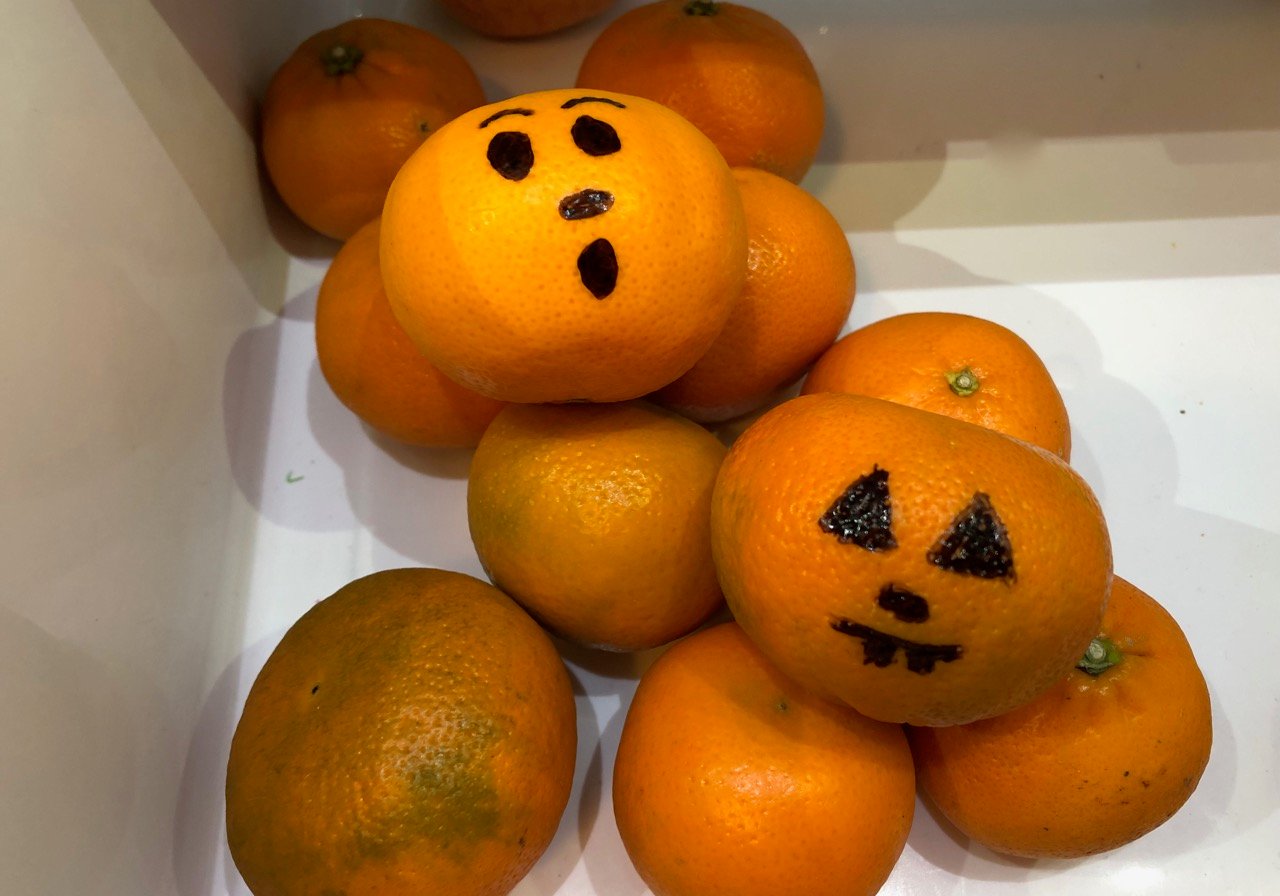 Clem, the Orange Pumpkin
Peel a clementine and stick a tiny piece of celery or green gummy in the middle and it looks just like a teeny, tiny pumpkin. Or simply draw a jack-o'-lantern face on an unpeeled clementine.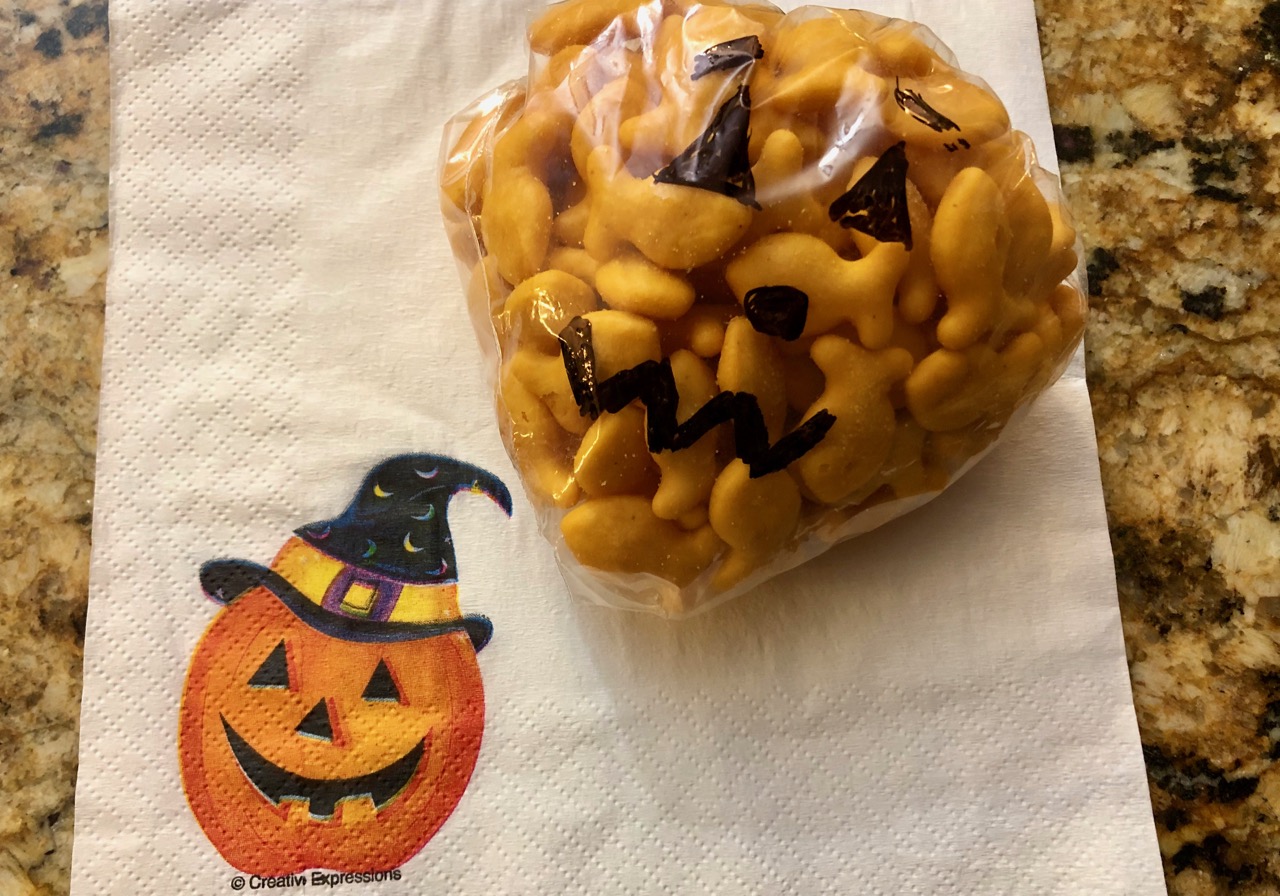 Pumpkin Goldfish
Decorate a sandwich bag or icing decorator bag with a jack-o'-lantern face and fill with Goldfish crackers. I taped the corners of the sandwich bag to the back of it to try to give it a more rounded shape. Honestly, I didn't think these came out so great and almost didn't include them, but my younger son was so excited when he saw them that he actually squealed with delight.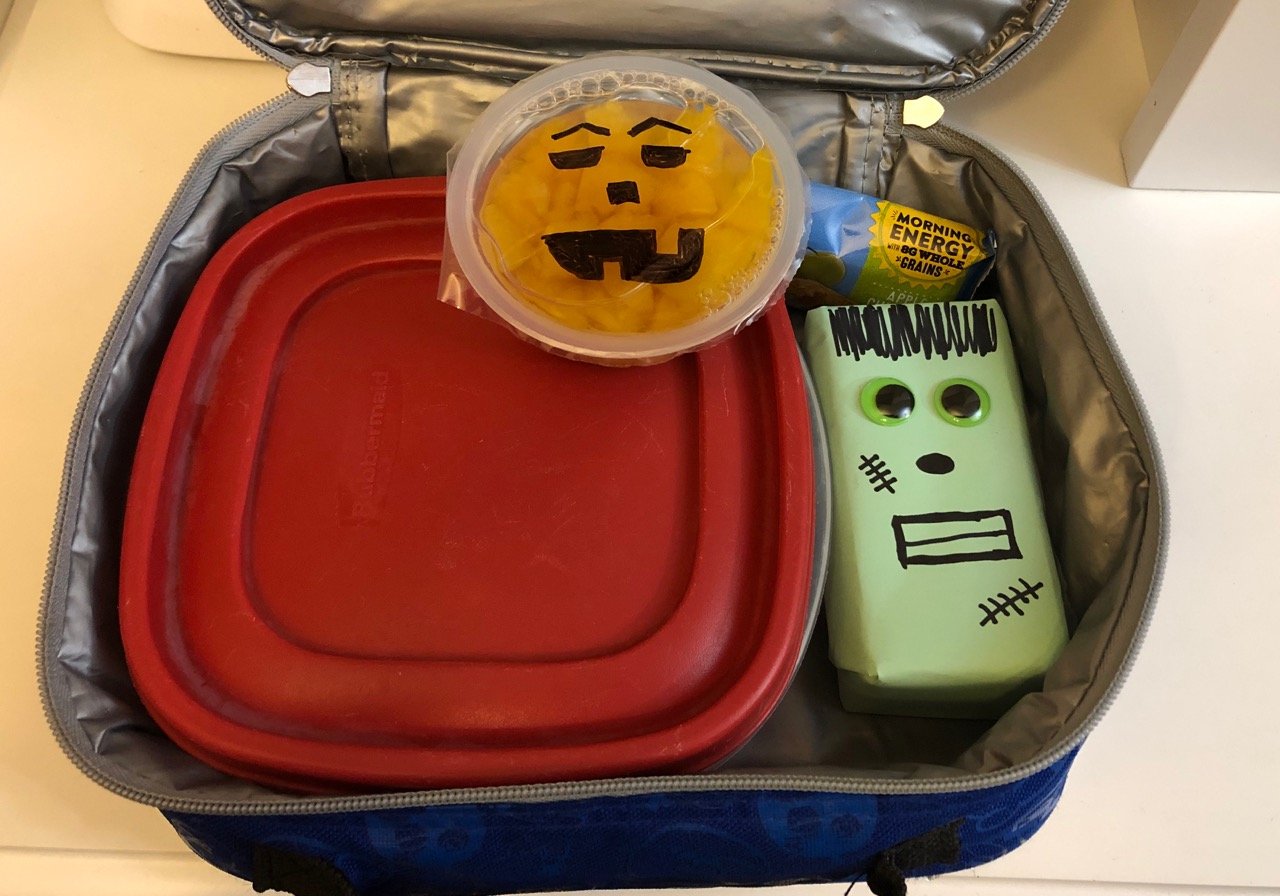 Fruit Cup Jack-O'-Lanterns
For even more jack-o'-lanterns, draw faces on your fruit cups. (I used diced peaches and mandarin oranges).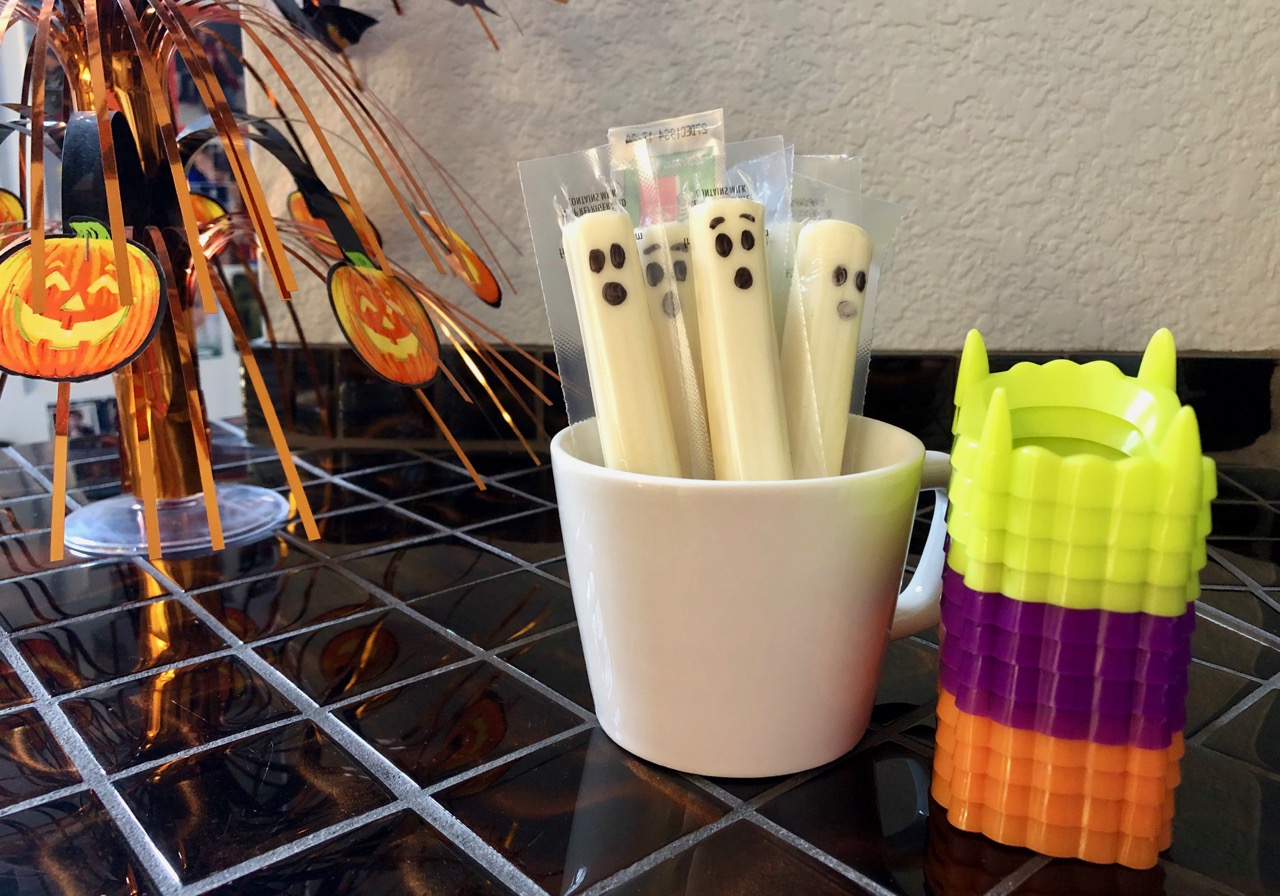 String Cheese Ghosts
Transform your string cheese into ghosts by drawing faces.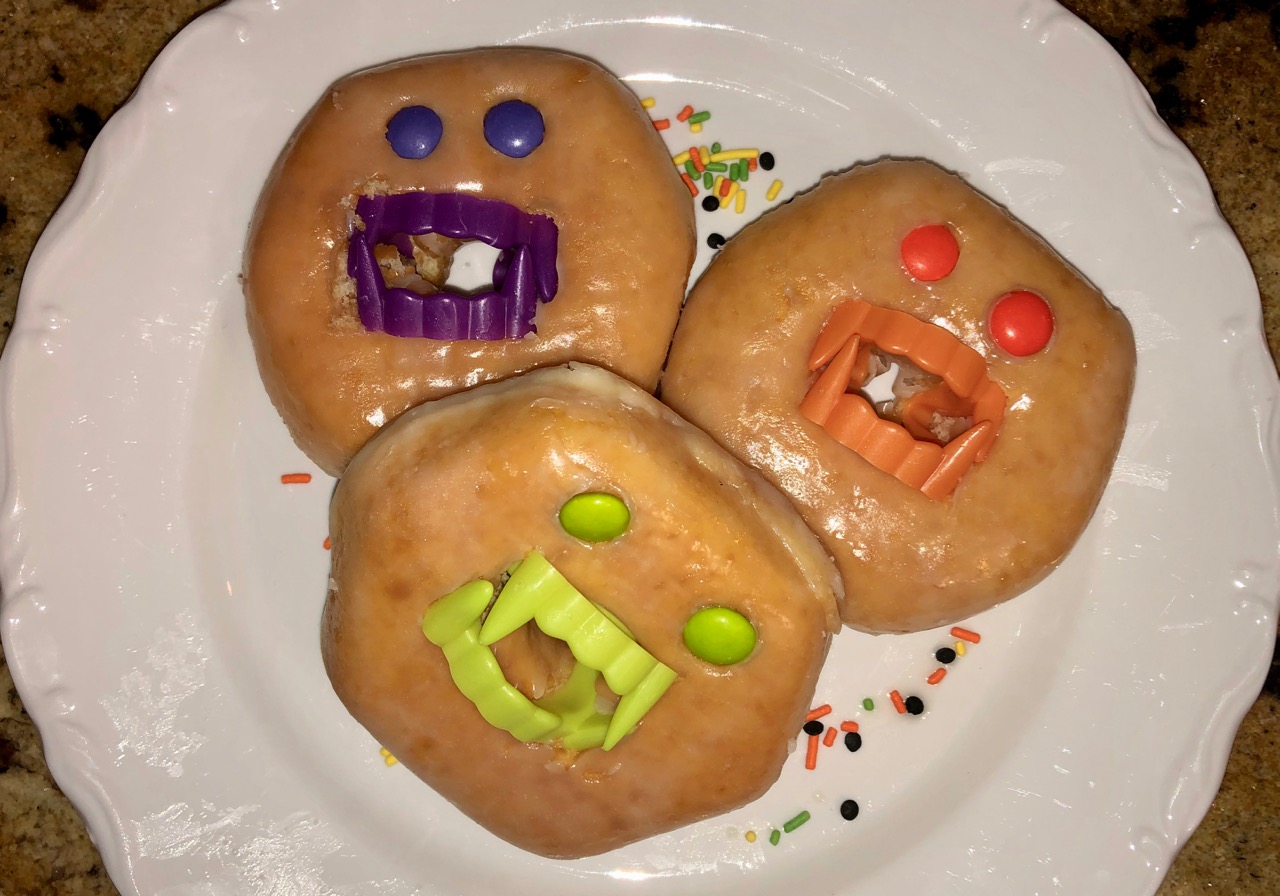 Donut Vampires
Put kid-sized fake teeth into the hole of the donut and use a dab of frosting to add chocolate chips for eyes or press in two pieces of candy. The holes in our donuts weren't quite big enough for the teeth, but my kids couldn't have cared less!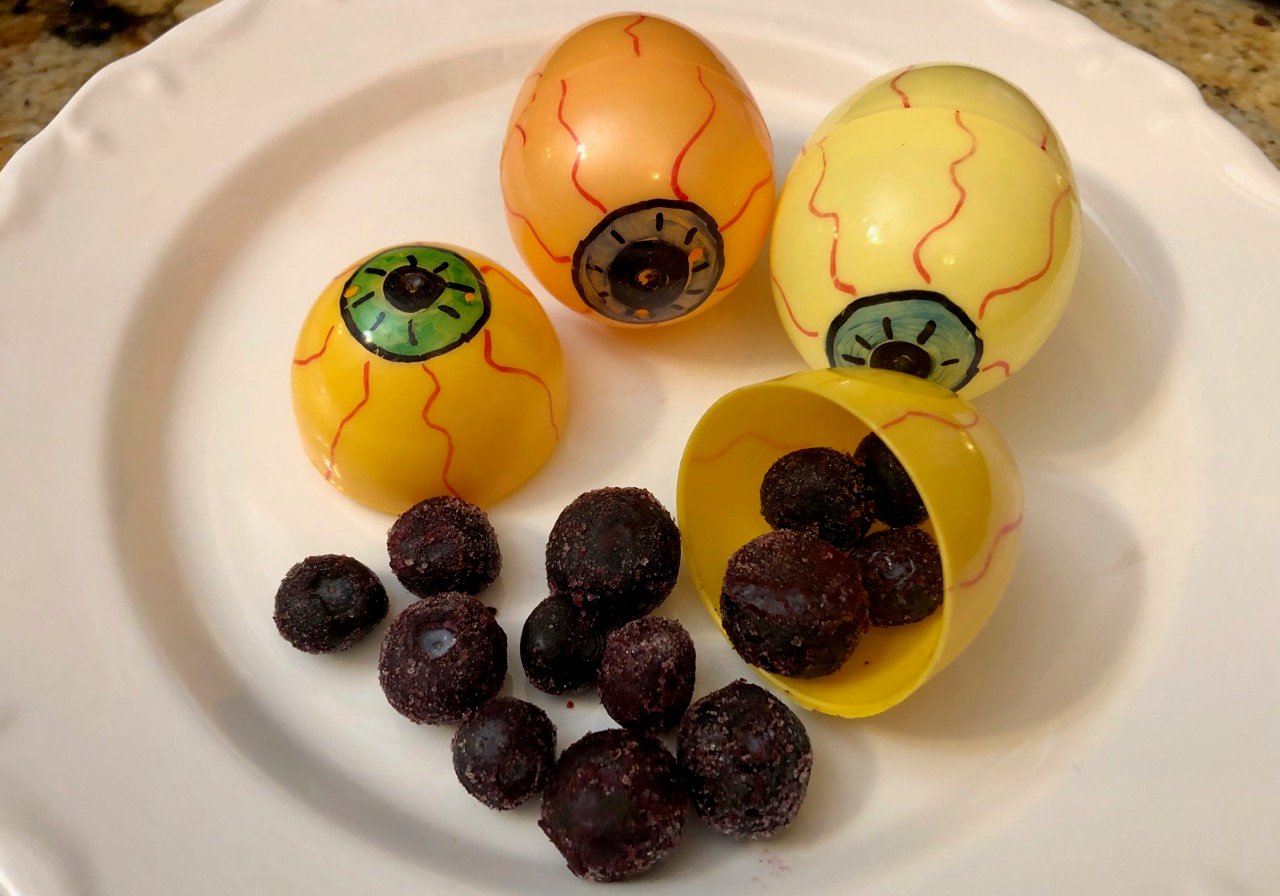 Eyeball Treats
Search through your stash of plastic Easter eggs for some plain, light-colored ones, then transform them into eyeballs. Fill with raisins, crackers, cereal, or mini marshmallows.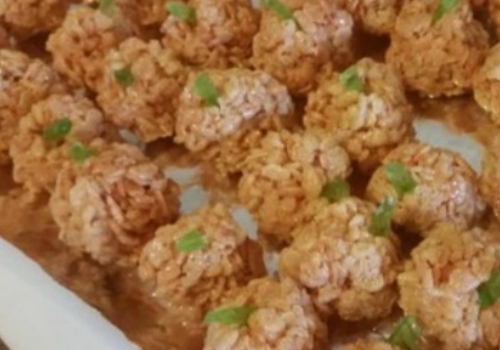 Yummy "Punkins"
Add a little bit of food coloring to your usual crispy rice treats and shape into little pumpkins. Top with a green gummy candy for the stem.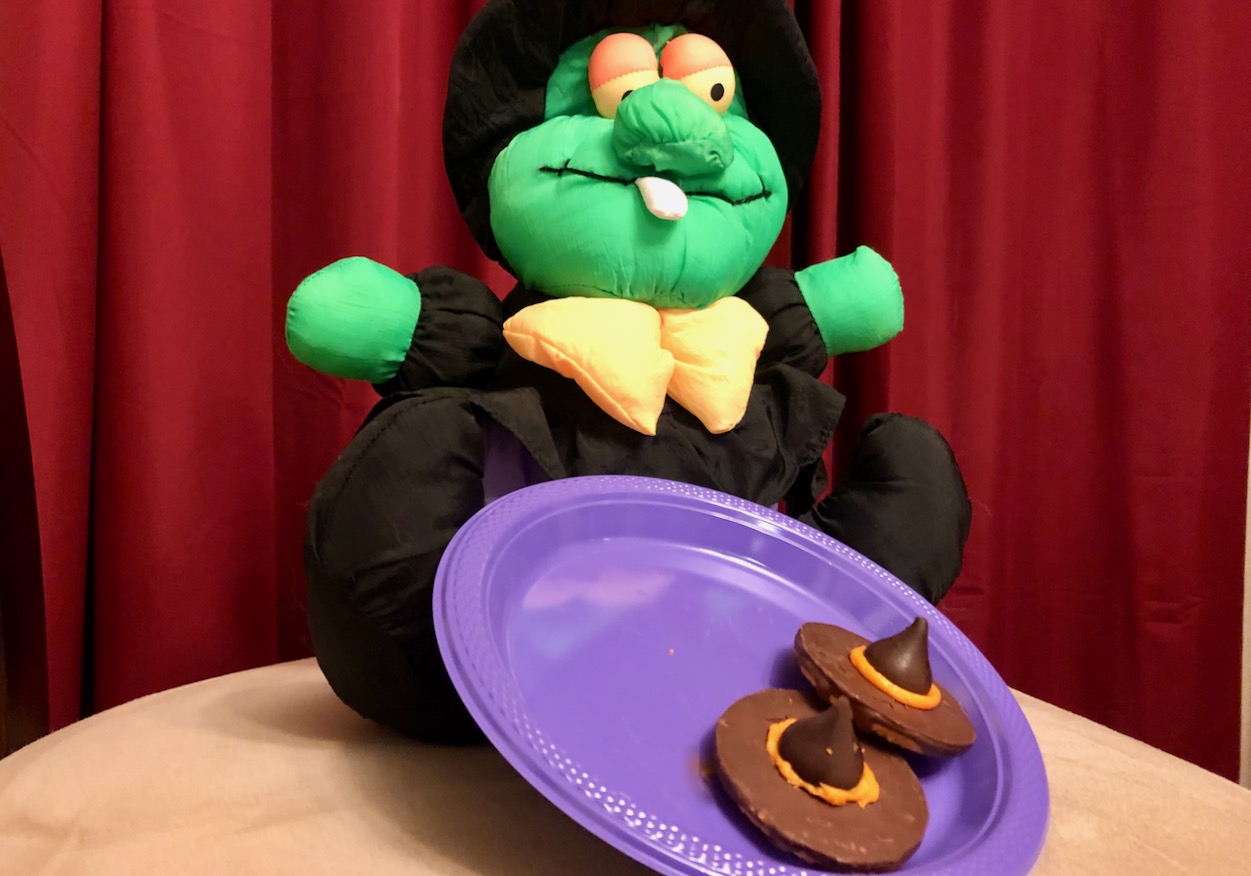 Witch Hat Cookie
Use orange, green, or purple icing to adhere a chocolate Kiss to a chocolate-dipped cookie. I use the small reusable containers with lids for the lunchbox so they don't get messed up.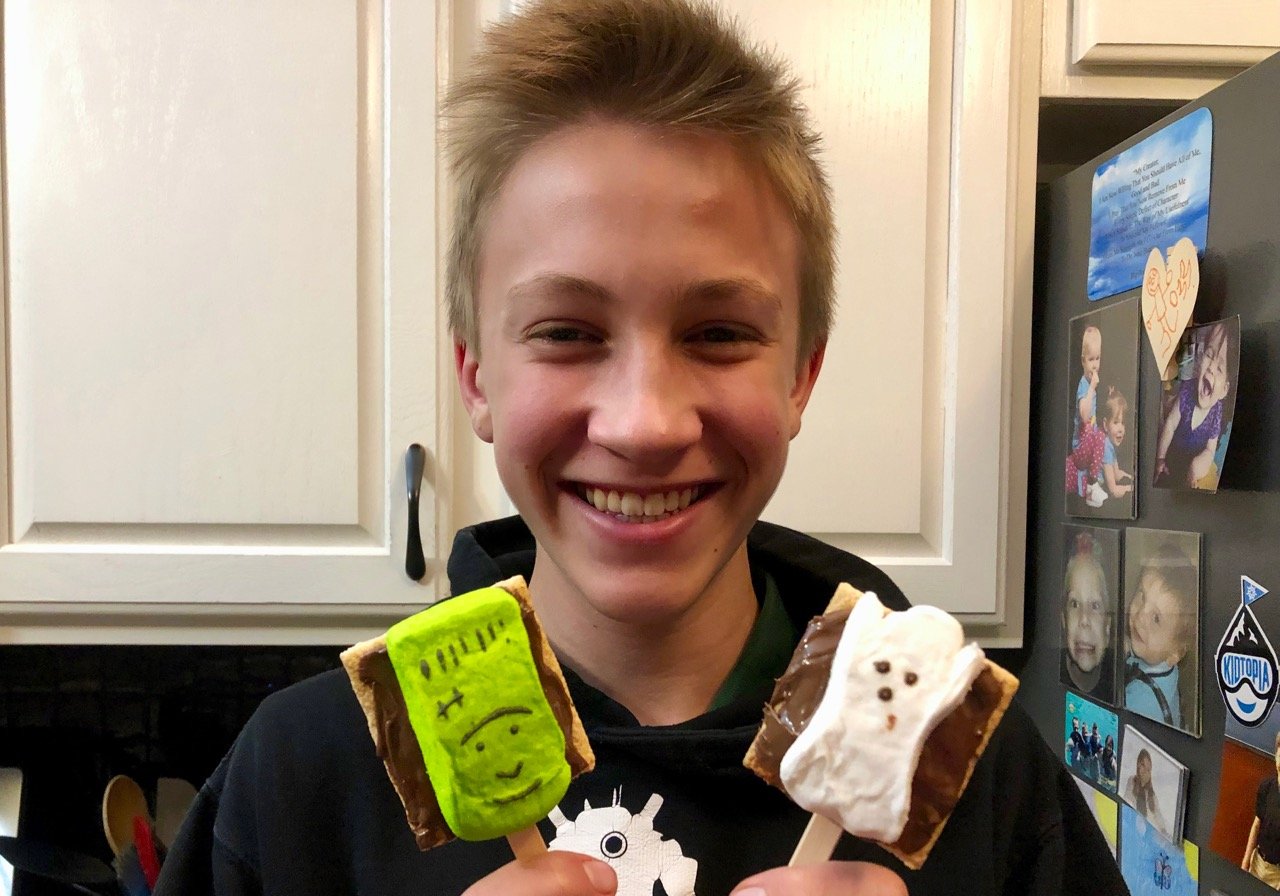 S'more on a Stick
Make a s'more on a stick with graham crackers, chocolate frosting or chocolate-hazelnut spread, and Peeps® marshmallow ghosts.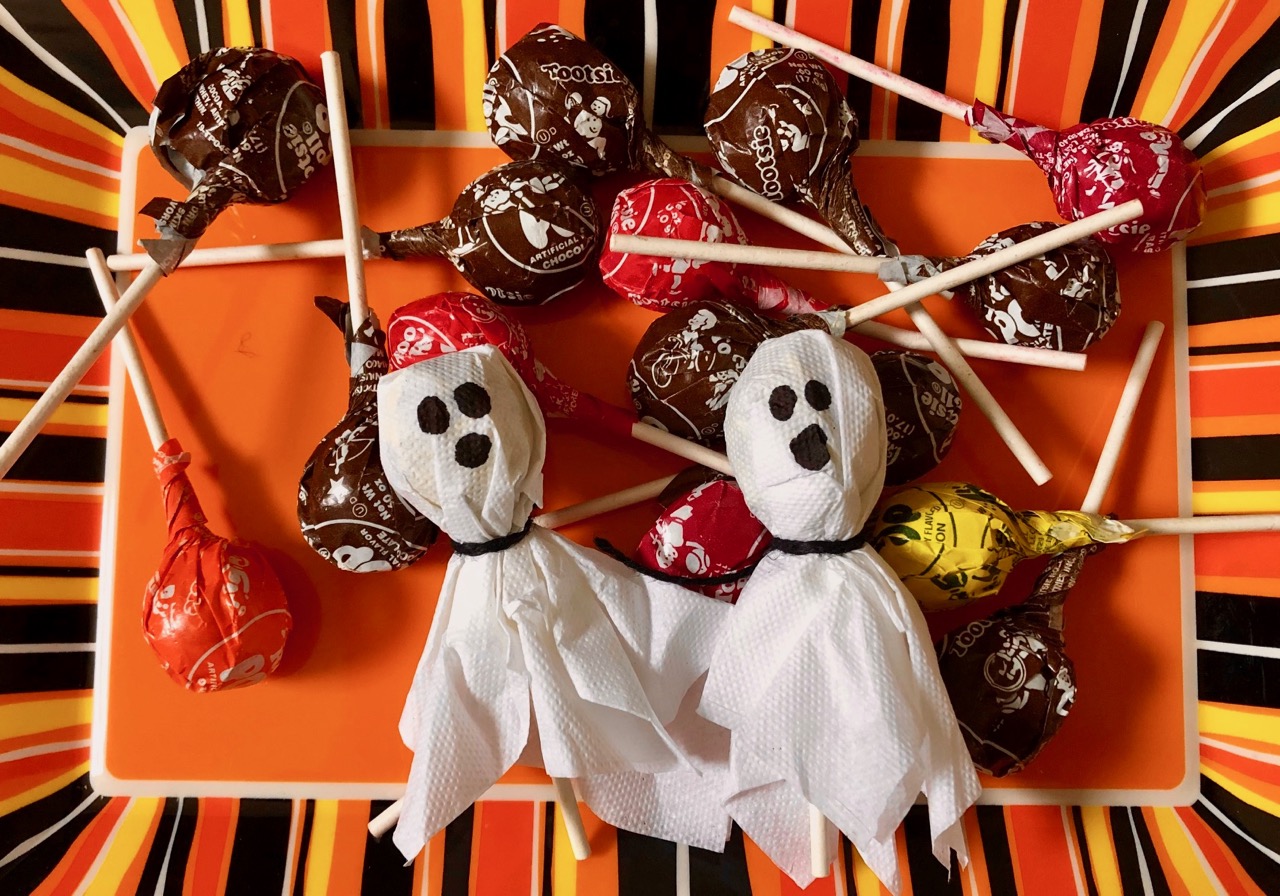 Lollipop Ghost
Wrap a tissue around a lollipop, tie with a ribbon, and add a face to create a ghost.
Kyrie Collins is the publisher of Macaroni Kid Highlands Ranch-Parker-Castle Rock-Lone Tree, Colo.