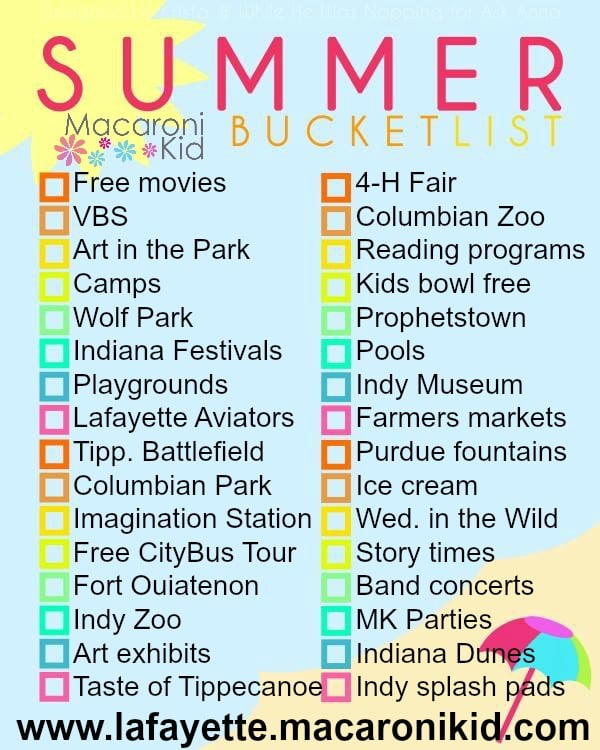 Free movies, free bowling, fairs, festivals, local playgrounds, pools, farmers markets, summer camps, VBS... all in the Tippecanoe County and Surrounding Areas! This is just another way to make sure you're in-the-know for the best ways to entertain and exhaust your Mini Macaronis. Keep up with all of the best that the Greater Lafayette Area has to offer for families with weekly updates & don't forget to check the calendar!

✿ Kids Bowl Free at Purdue's Rack & Roll and/or Arrowhead Bowling
✿ The Farm at Prophetstown is full of fun family events
✿ Have a new experience at the Linden Depot Museum
✿ Visit the Fort Ouiatenon Blockhouse Museum Open on Saturdays and Sundays
✿ Check out the growing list of Summer Camps
✿ Go to a concert at the Lafayette Citizens Band Concert
✿ Have a ball at one of the Lafayette Aviators Baseball Games
✿ Wolf Park is a neat experience for the whole family
✿ Go to one of the Wednesdays in the Wild!
✿ The Farmer's Markets are a fun experience for the kids
✿ Check out the art exhibits at the Tippecanoe Arts Federation Galllery Exhibits, Art Museum of the Greater Lafayette Exhibits, Robert L. Ringel Gallery Exhibits "Recent Acquisitions" and Fountain Gallery Exhibit Pop! Goes Purdue
✿ Enjoy one of the fun summer days at your local Lafayette, West Lafayette, and Prophets town pools.
✿ The Tippecanoe Battlefield has picnic areas, nature center, pioneer chapel and historic and scenic hiking trails.
✿ Prophetstown State Park offers camping, swimming at the aquatic center, hiking, biking, birding, wildlife observation, and more.
✿ Check out a movie from your library for a family movie night or enjoy one of their many story times. The story times are pretty much daily events.
✿ Visit the farm petting zoo, butterfly garden, and over 190 animals at the Columbian Park Zoo.
✿ Free story times & kids activities that Barnes and Noble
✿ Lafayette & West Lafayette community and neighborhood parks
✿ Malone's Gym Open Gym times & Kid's Night Out
✿ Rent a bounce house or obstacle course from Big Bounce Company
✿ Watch out for the Kona Ice of Tippecanoe County to reach your neighborhood. My boys love to run out of the house to get a sweet treat when they hear the music!
✿ Free CityBus Tour every Saturday!
✿ Imagination Station is Open 5 Days a Week!
✿ $5 Days at the Indy Children's Museum the first Thursday of each month

✿ Free Super Summer Community Bowl
✿ Kids Eat Free (or almost Free)
✿ Final Friday Movie Night

If you have a great idea for Summer Fun, feel free to share with bethc@macaronikid.com
LIKE THIS ARTICLE? Lafayette Macaroni Kid is a free weekly e-newsletter and website focused on fun family events and information in the Tippecanoe County and surrounding areas. We gather together all kinds of local family events and activities each week in our event calendar. Have an event you'd like submitted to our calendar for consideration? Submit an event here. Like what you see here and want to get all the fun delivered to your inbox weekly? Subscribe to our FREE weekly e-newsletter for the 411 on local family fun!
| | | |
| --- | --- | --- |
| | You may also like: | |
| | | |
| | | |